Posts for tag: dental implant
By Smile Shop Newtown
November 26, 2020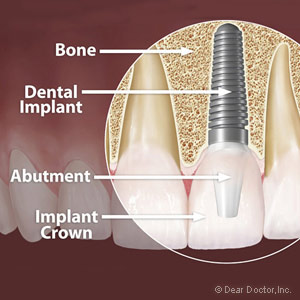 What happens when you lose a tooth? In the short-run, it can certainly undermine your appearance and ability to efficiently chew and digest food. But a chain of events could also be set in motion that may cause the most harm to your appearance and health—and it all has to do with bone loss.
Our bones aren't just rigid structures providing a frame for our bodies. They're living tissue with other purposes like producing blood cells and regulating the endocrine system. Bone tissue is constantly replenishing itself as older cells die and newer ones take their place.
In the jawbone, the pressure generated by the teeth while biting and chewing travels through the roots to stimulate the growth of new bone. If a tooth goes missing, however, the bone around the tooth also loses this growth stimulus.
This can cause normal bone growth to slow so that dying bone cells aren't sufficiently replaced. The bone may then diminish at an alarming rate—a decrease in width of about 25% in the first year after a tooth loss and several millimeters in height after only a few years.
This bone loss can continue to advance, especially if multiple teeth are lost, until the jaw structure as a whole loses significant height. The bite may then collapse, forcing the front teeth to push forward. In this state, a person may not be able to adequately bite or chew food. It can also damage their appearance—their smile suffers, of course, but their entire face may also appear shrunken.
You may be able to avoid this scenario if you replace missing teeth with dental implants. In addition to their life-likeness and durability, implants can also stop or slow bone loss. This is because titanium, the principle metal used in an implant, has a strong affinity with bone: Bone cells readily grow and attach to the titanium surface and foster new growth.
But don't wait: Bone loss could eventually extend beyond what an implant can accommodate—you may then need grafting to build up the bone or consider a different type of restoration. So, speak with your dentist as soon as possible about an implant restoration for a lost tooth to help avoid significant bone loss.
If you would like more information on how tooth loss can affect your life, please contact us or schedule an appointment for a consultation. You can also learn more about this topic by reading the Dear Doctor magazine article "The Hidden Consequences of Losing Teeth."
By Smile Shop Newtown
July 05, 2019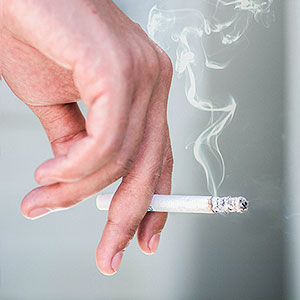 Although costly in the beginning, dental implants often turn out to be the least expensive tooth replacement option. That's because their enviable record for longevity often outpaces dentures or bridges. Over the long-term you might spend less for implants than these other restorations.
But even with the high success rate of dental implants (greater than 95% survive the ten-year mark), we can't guarantee they won't fail. And if you're a tobacco smoker, the risk of failure might be even higher. One study, for example, found early implant failures were twice the rate for smokers over non-smokers. Although implant failures overall are low, smoking seems to be a factor in those that do.
There are a number of reasons to account for this. For one thing, inhaled smoke can damage salivary glands, reducing the flow of this important fluid. Saliva helps control bacterial growth and neutralize mouth acid, so without it you're more susceptible to tooth decay or periodontal (gum) disease. Either infection could ultimately weaken implant-supporting bone.
The nicotine in tobacco can also restrict oral blood vessels and lower their ability to supply antibodies and nutrients to the teeth and gums. This slows healing, which could have one particular effect on implant durability.
During the intervening weeks between implant placement and crown attachment, the implant's titanium post attracts bone cells that grow and adhere to its surface. The effects of nicotine on healing, especially right after implant surgery, can interfere with this integration process so that the implant doesn't anchor in the bone as well as it should.
If you're a smoker, you can increase your chances of implant success—and have a healthier mouth overall—by quitting smoking beforehand with the help of a cessation program. Or at the least, consider stopping smoking for one week before implant surgery and for two weeks afterward.
And be sure to brush and floss your teeth daily and visit your dentist regularly to keep your teeth and gums as healthy as possible. Stopping smoking and practicing effective oral hygiene could make a big difference in the success or failure of your implant.
If you would like more information on smoking and your dental health, please contact us or schedule an appointment for a consultation. You can also learn more about this topic by reading the Dear Doctor magazine article "Dental Implants & Smoking."