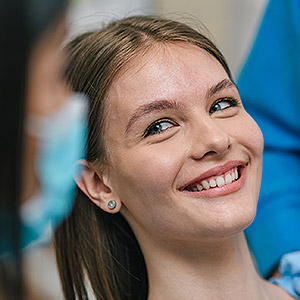 People love dental veneers—those thin, porcelain shells bonded to teeth to mask stains and blemishes. For a relatively modest price, they can vastly improve a smile.
But what if it's your teenager who needs a smile upgrade? Teens also experience dental flaws like adults—which, at their age especially, disrupt their self-image and social confidence.
So, can veneers work for teens? Technically, yes, but there's a possible snag, depending on the maturity level of their teeth.
The potential problem relates to the tooth preparation that precedes the bonding of the veneers. One option is no-prep veneers and they are a nice solution depending on the size and shape of the existing teeth. If the teeth are slight in size, no preparation is necessary. If the teeth are large, even though veneers are thin, they can still look unnaturally bulky when bonded to unprepared teeth. A dentist may need to remove some of the tooth's surface enamel before applying the veneers.
Although this alteration has little effect on an adult tooth (other than requiring a veneer or restoration from that time on), it could damage a less mature tooth and stunt its development. A younger tooth can have a larger pulp—the central tooth chamber containing blood vessels and nerves—that's closer to the enamel surface than an adult tooth.
Because of the pulp's proximity to the surface of an immature tooth, there's a risk of damaging it during the tooth preparation phase for veneers. If that happens, the tooth may need additional treatment to save it.
We don't depend on a teen's calendar age to determine whether or not it's safe to install veneers. Instead, we examine the teeth and measure how close the pulp may be to the surface, as well as the thickness of the middle layer of dentin. Veneers could be acceptable if it appears the teeth have reached a healthy level of maturity.
If not, though, we may need to consider less invasive ways to improve a teen's smile. For stains or other outer discolorations, whitening with a bleaching solution significantly brightens teeth. We can repair chips by bonding and sculpting color-matching dental material to the teeth. And, these or similar cosmetic measures won't endanger an immature tooth like a veneer application.
Once a young patient's teeth have matured, we can revisit the subject of veneers. That may take time, but the more attractive smile that results will be worth the wait.
If you would like more information on dental care for adolescents, please contact us or schedule an appointment for a consultation. You can also learn more about this topic by reading the Dear Doctor magazine article "Veneers for Teenagers."