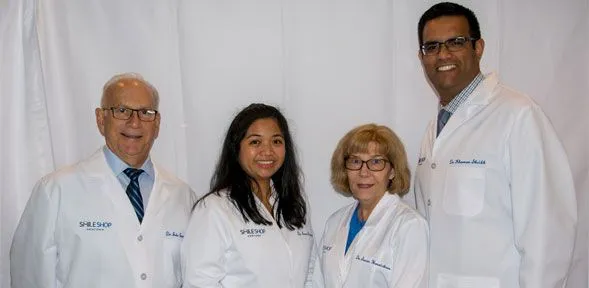 All professionals at Smile Shop Newtown maintain the highest levels of accreditation and pursue ongoing education to stay abreast of the latest trends in the medical field. Read on to learn more about our staff's experience and training.
Dr. John A Granados (Emeritus)
Dr. John Granados is the founder of Smile Shop Newtown and is enjoying semi-retirement. He received his dental training at Temple University and has been in practice for more than 30 years - all in the Newtown area. In 1955, Dr. John Granados and his family moved into a brand new Levittown home and he has remained a lifelong resident of Lower Bucks County every since.
Coming from a family of dentists, Dr. Granados knew that he wanted to be a dentist from an early age. Watching his grandfather and uncles provide exceptional care for their patients made this an easy career decision. After graduating from Bishop Egan High School and the University of Maryland, Dr. Granados earned his Degree in Dental Surgery from Temple University School of dentistry in 1976 and has been serving our community as a general dentist ever since!
Dr. Granados is a firm believer in the value of continuing education and took numerous courses in cosmetic dentistry, occlusion, and TMJ disorders. He was one of the few dentists in Pennsylvania to provide Durathintechnology (veneers with minimal or no tooth removal.) He still is a member of the American Dental Association, Pennsylvania Dental Association, Academy of General Dentistry and Montgomery-Bucks Dental Society.
He is also a member of the Crown Council, which is a group of dentists who continually provide funding for children's charities through office-wide campaigns such as Smiles For Life. Not only a prominent member of the local dental community, Dr. Granados is also an active member in his community through charity work, involvement in the Boy Scouts of America, and a regular sponsor of various community sports teams and events.
Dr. Granados currently resides in the area and together with his wife, Elaine; they have raised their four children: Alicia, Tony, Matt, and Nick. Dr. Granados' commitment to clinical excellence is matched only by his desire to provide unparalleled customer service to his patients. He welcomes you to learn more about the way the team at The Smile Shop can help you achieve and maintain the smile of your dreams.
---
Dr. Susan E. Henrickson
Dr. Susan Henrickson has been practicing dentistry for over 35 years. She is a proud graduate of the University of Pennsylvania School of Dental Medicine. Following graduation from dental school, Dr. Henrickson moved to Bucks County, and began a General Practice Residency at the Medical College of Pennsylvania. She also married her husband, Dan. Prior to dental school, she received an Associate Degree in Dental Hygiene from New York City Community College in Brooklyn, New York and a Bachelor's Degree in Biology from Alfred University in Alfred, New York.
Dr. Henrickson is a member of the American Dental Association, the Pennsylvania Dental Association, the Montgomery Bucks Dental Society and the Academy of General Dentistry. She attained her Fellowship from the Academy of General Dentistry, which is an award granted for "Demonstration of an exceptional interest in responsible patient care through dedicated participation in continuing dental education and lifelong learning". This award was granted at a convocation ceremony in San Francisco, California in June, 2015. Dr. Henrickson is committed to serving her patients by facilitating and carrying out treatment in as comfortable a way as possible, giving each patient their best smile to present to the world.
Dr. Henrickson focuses on treating all of her patients as though they were family. She presents them with treatment options and guides them through the process of decision making while letting them know what is truly in their best interest. Dr. Henrickson resides in Bucks County. She has been married since 1981, and she has two daughters and one son – one a doctor, one a teacher, and one a sales executive, as well as two grandsons and a granddaughter. When not at work, Dr. Henrickson enjoys spending time with her family, including her rather large black Labrador Retriever, Rocky. She also spends leisure time traveling, gardening, and gourmet cooking.
Dr. Khurrum S. Sheikh
Dr. Khurrum S. Sheikh is a native of Jersey City, New Jersey, where he graduated from St. Peter's Prep High School. Keeping with the Jesuit tradition, Dr. Sheikh earned a Bachelor's degree from Creighton University in Omaha, NE. He earned his dental degree from Boston University Goldman School of Dental Medicine. Dr. Sheikh furthered his knowledge and training by completing a one-year Residency at the University of Nebraska Medical Center.
As a resident, Dr. Sheikh focused on more complex full mouth reconstruction treatments and medically compromised patients. He continued at NYU where he completed a 2-year Implantology Fellowship in surgical placement and restoring dental implants.
In Aug 2016 he was awarded as a fellow in the International Congress of Oral Implantologists. Prior to joining the Smile Shop Team Dr Sheikh practiced in NYC where he focused his treatment on aesthetic and cosmetic procedures. Dr. Sheikh is a former Assistant Professor for University of Nebraska Medical Center and presented at multiple medical and dental conferences.
He currently is part of UPENN faculty as a Clinical Associate Professor in the department of Preventative and Restorative Sciences where he works closely with 3rd and 4th year dental students to not only teach dentistry but to share his passion for the profession.
Dr Sheikh is active in the dental community where he is a clinical director and active participant in the Special Olympics Special Smiles team. Dr Sheikh served as President of the Mercer Dental Society in NJ in 2015-2016.
He is a member of the Academy of General Dentistry and the International Congress of Oral Implantologists.